Women's Ministry
Leader's Information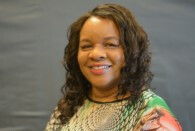 Minister Helecia Thomas
Women's Ministry Facilitator
Email:
---
Mission Statement
To develop spiritual growth and transformation through studying and applying God's word as well as sharing our faith and serving one another.
Description
Through scripture, the Women's Ministry provides teaching, exhortation, inspiration and discipleship training to women ages 18 and older. Our bible studies are designed to promote spiritual growth, help women develop a person relationship with God and a loving relationship with one another.
In 2016, we launched our Sister's Keepers mentoring/discipleship program.
The purpose of Sister's Keepers is the following:
Be a mature Christian example to your sister
Teach your sister how to develop genuine relationships with other women
Share spiritual insight and experiences with your sister that glorifies God
Love your sister unconditionally, and teach her how to do the same.