Men's Ministry
Leader's Information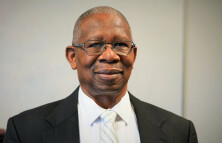 Minister Terry Kerns
Men's Ministry Facilitator
Email:
---
Mission Statement
Prov. 27:17 "As iron sharpens iron, so one man sharpens another."
The NCOM Men's Ministry strives to promote spiritual growth, development and encouragement for all men to become the disciples of Christ He is calling them to be with the willingness to share, serve and pray for one another as we minister in the kingdom of God and the world.
Description
Our Men's Ministry is the active pursuit of men coming together on one accord with God, His Word and other men for the purpose of winning, growing and training God's men in Christ.
Psalm 133:1 says "Behold, how good and how pleasant it is for brethren to dwell together in unity."
We conduct bible studies the 3rd Tuesday of every month to further the spiritual growth, fellowship, discipleship, and mentoring of the men at NCOM to provide for better family life, church ministry support, and community involvement. We also hold monthly Prayer Breakfasts to hear God's Word, encourage fellowship and prayer from the men for the various prayer needs.